Venue Info
Enchanted Forest Christmas Party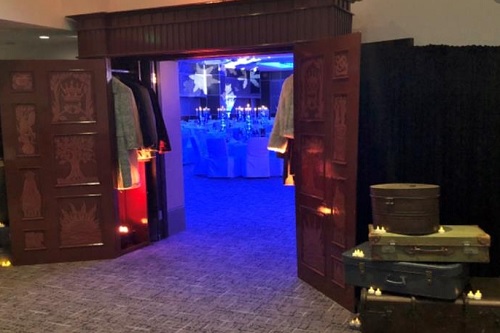 Located in the heart of Manchester, and Enchanted Forest Christmas Party awaits you…
Surrounded by large wardrobes, old suitcases and wooden trunks, you will be lead by a dimly lit light leading you towards the right path in entering this magical space.
Push through the old coats and step into the breathtaking Enchanted Forest
Frost white trees, twinkling towers and street lamps await while dancing snowflakes move around above you.
Star-cloth and white draped rooms will usher you in as snow effects fills the rooms from their LED globes.
Enjoy a round of the bubbly before taking your seats at the table to feast on the delicious three-course meals of the evening.
After dinner, choose from a variety of entertainment available including the likes of Ice Pixies in giant snow globes and more.
The Enchanted Forest Christmas Party package is perfect for those looking to host anywhere between 50-200 guests.
Package includes:
Enchanted Forest theme & décor:
Bespoke lighting
Large props
Star-cloth & velvet draping
Themed table centres
White chair covers
Champagne reception
Three course dinner
Drinks packages
Disco & DJ
Entertainment options include:
Ice Pixies in giant snow globes
Frost Fairy's & Ice Men jugglers
Stilt walking Snow Queens
Walkabout characters
Ice sculptures
Stone moving statues
To book this package, kindly contact us.