Capacity
Coach House Seat: 48 - 146 / Reception: 240
Wilde Theatre Seat: 100 -325
Garden Room Seat: 22-63 / Reception: 100
Mirror Gallery Seat: 19-56 / Reception: 90
Recital Room Seat: 25-80 / Reception: 120
Tall Hall Seat: 22-72 / Reception: 100
Terrace Room Seat: 15-46 / Reception: 80
McAllister's Seat: 35-46 / Reception: 60
Moore Room Seat: 12 - 18
Soane Room Seat: 12 - 18
Cellar Bar Seat: 60-70 / Reception: 120
Venue Info
Screening Rooms London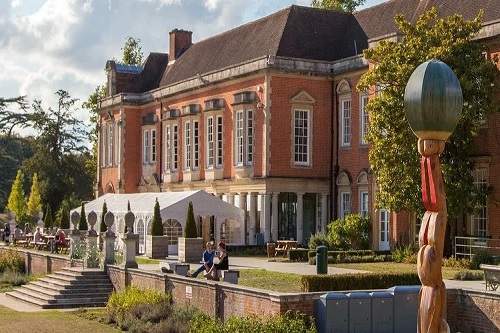 Screening Rooms London – South Hill Park is one of the largest & enterprising arts centers for hire in the country.
This breathtaking 18th-century mansion houses two theatres, dance studios, creative spaces, and more. It even has its own cinema for screening-hire purposes. Apart from its availability for hire, the center hosts up to 300 shows, events, and over 250 workshops and courses.
Its unique blend of history and creativity makes it an ideal venue for those looking for elegance, functionality, and something different.
You'll be spoilt for choice from its many offered spaces ranging from a 60-seat cinema to a professional-tiered conference space at 325. The stunning views overlooking the Italian Gardens bids you welcome too.
The professional tech team is always on hand to ensure your event runs as smoothly as possible.