Capacity
The Churchill Room Reception: 100 / Theatre: 100 / Boardroom: 30 Cabaret: 30 / Lunch / Dinner: 70
Long Drawing Room Reception: 120 / Theatre: 100 / Boardroom: 35 / Cabaret: 48 / Lunch / Dinner: 100
Small Drawing Room Reception: 60 / Theatre: 50 / Boardroom: 24 / Cabaret: 24 / Lunch / Dinner: 50
The Meeting Room Boardroom: 10
The Courtyard Reception: 150
Venue Info
Dartmouth House Mayfair
Dartmouth House, home of the English-Speaking Union is an elegant mansion set in the heart of London's Mayfair, providing the perfect setting for hosting meetings, events and weddings.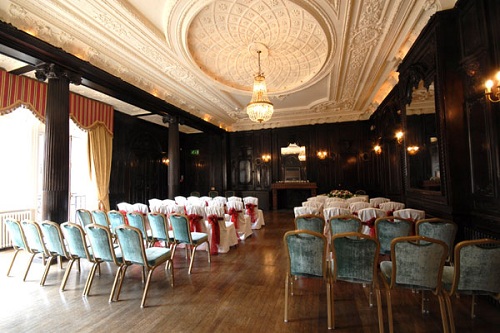 The original Dartmouth House building, constructed in the 16th century, was converted by Lord Revelstoke in the late 19th century, into a beautiful town house with many interesting features.
The first floor drawing rooms can be used independently or combined to provide space for up to 140 guests for dinner or 200 for a reception. The adjacent Churchill room with its opulent wood panelling possesses a stately presence for events catering for up to 80 guests.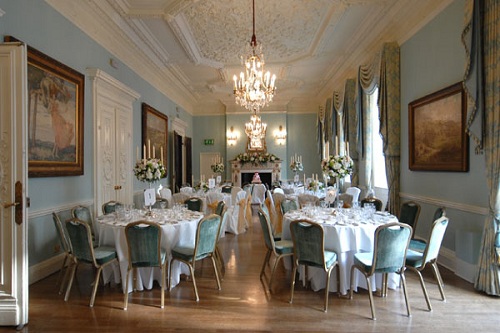 On the ground floor of Dartmouth House, the Revelstoke offers a warm welcome to guests for private dinners or receptions for up to 80. For summer events, the Revelstoke leads directly onto the stunning courtyard.
The Courtyard is the perfect oasis for summer entertaining, with marble floor, lanterns and fountain, this unique space provides the perfect backdrop for stylish events.
Dartmouth House is an idea and unique venue for weddings and private events and our dedicated events team will ensure your event is a brilliant success.
Catering by Leith's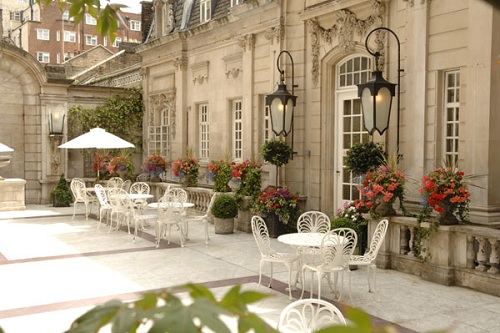 Menus are based on Prue Leith's original philosophy of simplicity and quality and combine only the best ingredients to create imaginative, flexible menus for all types of events. Leith's take pride in their adaptability, providing both recommended menus and bespoke dishes to suit a myriad of requirements in addition to their signature dishes which are simply too exquisite not to be shared.
For more information on Dartmouth House or to book, please call us on 020 7186 8687 or email us.