Venue Info
Hyde Park Winter Wonderland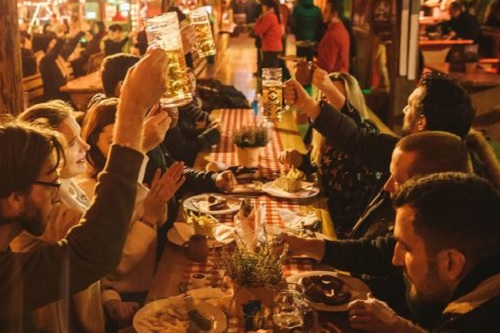 Dubbed the ultimate Christmas Destination, London's Hyde Park Winter Wonderland is back again!
This year Hyde Park will be taking on a unique approach to "Alpines Alpres Ski" Christmas themes complete with a chance for you and your guests to sing your hearts out.
Get ready for a memorable experience at our Bar Hütte in our Alpine themed village as the hosts for the evening caters to you.
Looking for a more chilled and fun-filled activity?
Our Bar Ice is exactly what you are looking for. Step into this funky pop-art bar for a round of bubbly and be amazed that as everything you see is made out of ice!
Don't forget to check out our Bavarian Village as well. It is the perfect place to unwind, you and your guests will enjoy the festive atmosphere and welcoming warmth of all within the comfort of our village, located in our Almhütte restaurant.
Ready to settle down for the night after all the partying, dancing and feasting?
Well the fire pit is just what you are looking for. Here you will get to enjoy music from the live bands, toast marshmallows over the fire all while you warm yourself up with our specially brewed winter warmer cocktail.
With all these and so much more to offer, be sure to book your slots with us now.