Capacity
CTRL Seat Cap: 120 - 300 / Reception: 300
CMD Seat Cap: 66 - 120 / Reception: 120
TAB Seat Cap: 28-90
SHIFT Seat Cap: 28-90
ALT Seat Cap: 28-90
ALT/TAB Seat Cap: 80-150
BACKSPACE Seat Cap: 28-90
Venue Info
Creative Space Central London
Creative Space Central London – CodeNode is a unique tech venue for hire that offers a wide range of event spaces.
Billed at UK's largest venue dedicated to technology events in London, the space is available for workshops, hackathons, conferences, meetings, and more.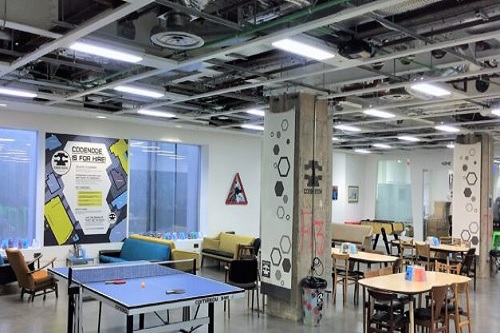 This one-of-a-kind venue is able to host anywhere from 20 – 300 guests. A 23,000 sqft space, it has an array of vintage sofa seating, ping pong tables, and a fully-licensed SpaceBar.