Capacity
Victoria Hall Seat: 120-1200 / Reception: 1300
Sullivan Room Seat: 40-120 / Reception: 1250
Albert Room Seat: 40-120 / Reception: 200
Cohen Room Seat: 30-40
Elgar Room Seat: 12-20
Grimshaw Room Seat: 20-40 / Reception: 60
Kramer Room Seat: 20-40 / Reception: 60
Reed Room Seat: 16-24
Spark Room Seat: 16-30 / Reception: 30
Venue Info
Leeds Town Hall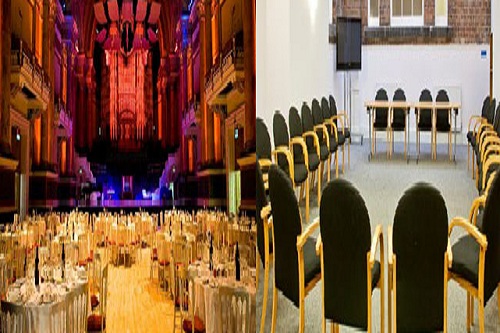 Leeds Town Hall is not only a Grade 1 listed building, but it is also one of the largest in the UK.
Built by Cuthbert Brodrick in 1852, the Town Hall was opened by Queen Victoria in 1858.
Iconic, historical and recently underwent refurbishment, the Town Hall is perfect for those looking to host numerous events.
The meeting spaces can be hired separately from the Hall, ideal for those looking to hold their meetings or conferences in an iconic venue.
To enquire or book this venue, kindly contact us.