Venue Info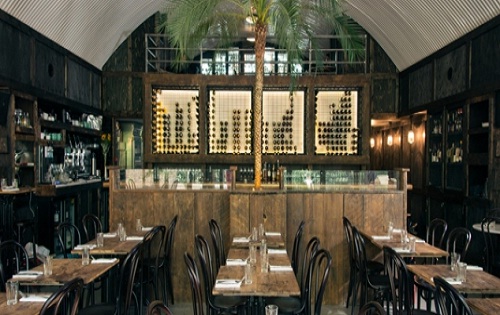 Mission is a nod towards the owners (Michael and Charlotte Sager-Wilde) favourite neighbourhood in San Francisco where they lived and worked over the last few years; it is also the name given to the first grape ever planted in California's wine region.
Wines from the West Coast of America take precedence on the 150-strong bottle list, in particular the next generation of wine makers who are the pioneer producers in the area, such as Broc Cellars, Hirsch, Mount Eden, Tatomer and Scholium Project.
Mission, located on Paradise Row in Bethnal Green, is tucked under an old railway arch and ex Balls Brothers wine warehouse, with its high ceiling curved around the body of the space from one side to the other.
The interior is set over two floors; a bar, featuring a gun metal bronze bar top, and dining room on the ground floor, and a private dining and wine cellar upstairs on the mezzanine.
Conceptually, the bar takes influence not only from the London railways, with its raw, and urban tones, but also from California.
Large sliding doors stretch the entire façade injecting plenty of natural light into the room, whilst a striking, living palm tree protrudes from the centre of the floor introducing vibrant greenery and life, and perhaps giving guests a sense of being in a sun-soaked Californian vineyard, in the heart of the East End of London.
Capacity – Gallery 35 seated / 40 standing
To enquire or book this venue, kindly contact us.