Venue Info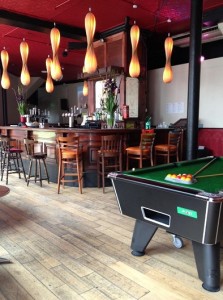 The London Apprentice has been standing at 333 Old Street for over a century.  Now a light, open space; the original bar is one of the only reminders of the building's extensive history.
The history of The London Apprentice of Old Street is spread across the archive halls of London.  Rent agreements from around 1895 are still in existence, while film footage of the nearby Britannia Theatre in 1920 includes a straight shot of The London Apprentice (looking almost identical as it did in the 1990s).  Earlier references to the pub include a police report from the 1830s where the famous bodysnatchers, the London Burkers, claim to have met one of their victims in The LA.  The magistrates court over the road had a secret tunnel under Hoxton Street to the LA cells in the basement.  I wonder if it is still there.
The London Apprentice slowly rose to its famous status in the 1970s / 1980s when new owner Michael Glover brought his experiences of gay bars in America back to London.  As London began to relax its laws a little, the gay community flourished in Shoreditch and it became the home of the artist.
A second home to many of the locals, The LA was known for its clone / transvestite image and its secret parties in the dungeon-like basement, The Tool Box.  Its reputation soon attracted many a gay celebrity including Jean-Paul Gautier, Marc Almond, Lily Savage, Sir Ian McKellen, and Freddie Mercury.  As a pillar of the gay community, the LA hosted the first ever Terence Higgins Trust meeting to spread awareness of HIV.
In 1990 the pub was bought by Vicki Pengilley of The Bricklayers Arms, thus preventing is becoming another 'yuppie' wine bar.  Later changing the name to 333 in 1998 in just a 10 day renovation period before the place re-opened; and inviting down the most innovative DJ's and designers kept the place on its feet and it was soon once again a local for a partying celeb.  While musicians from the Gallagher brothers, to Seal frequented the venue, there were several bands who cut their teeth in 333: Babyshambles, The Libertines and Razorlight all played some of their first London dates here.
Summer 2012 and 333 comes to an end.  A complete refurbishment of the ground floor includes ripping down the blacked out walls and putting huge windows in their place.  Furnished with living room furniture, ping pong and a pool table, and a huge swinging chair The London Apprentice is a brilliant London pub!.