Venue Info
There are very few venues in London with the wow factor, novelty, exclusivity and grandeur that our beloved Natural History Museum has to offer.  Thousands of visitors pass through its doors each week, but after dark, the building takes on a magical atmosphere and provides a ready-made space for wining, dining and entertainment.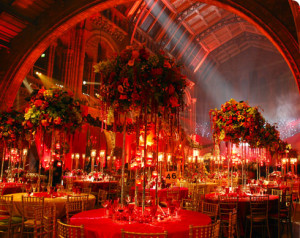 There are several events spaces to choose from, with the largest able to hold up to 1,200 guests –  The Hintze Hall.  The Hall is home to the familiar Diplodocus skeleton that regular visitors know so well, and the triple height ceilings boast stunning exposed brickwork and tall Romanesque arches.  The enormous, sweeping stone staircase provides the ideal opportunity for a grand entrance by the newlyweds, while tables, chairs and a mobile stage is set up around the feet of the ancient skeleton.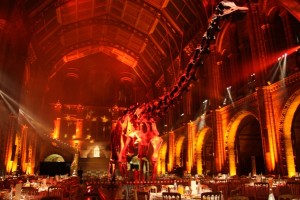 Intimate dinners can also be accommodated in this imposing space for an extra-special occasion, and the minimum number for booking is just 100 people.  The use of coloured lights adds to the dramatic and theatrical feel of the room, and makes a bold and stunning revelation after your guests have been lead through the reception space, which features a starry-sky effect floor and is dark, moody and mysterious.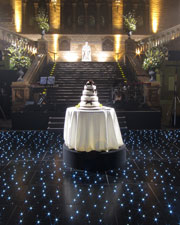 The Earth Hall is available for parties of 50 to 500 guests.  Particularly suited to those looking for a more enigmatic, perplexing and atmospheric venue, the dark walls, twinkling star constellations and looming central feature of the huge revolving Earth model create a magical, outer-worldly environment.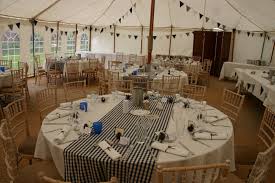 Your guests can take the escalator up through model Earth's core to see the magma and fire within, before stepping out into the Museum's spectacular Earth exhibition, which has now been in residence for over 10 years.  An earthquake simulator can provide hours of fun (take your posh shoes off first though, the floor really does wobble, and try to steer champagne-fuelled guests well clear of this intriguing and purposefully unstable grown up's toy), while the exhibition itself offers information and interactive activities.  It's a great ice breaker for an eclectic crowd, and a truly memorable addition to an evening reception.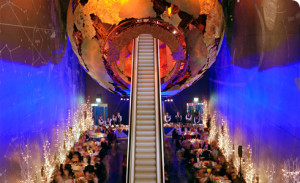 For summer parties, the contemporary Darwin Centre has direct access to a spacious outdoor courtyard and lawn.  A looming glass wall provides either daylight or a view of the city's nighttime lights, and a giant cocoon celebrates the evolution of life while also providing a fascinating focal point.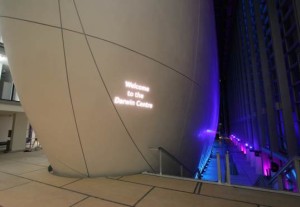 50 to 350 people can enjoy a reception here, and it's a particularly popular choice for corporate functions due to the resident AV equipment, which is usually used to display informational videos during public opening hours, but can be easily adapted to show other presentations.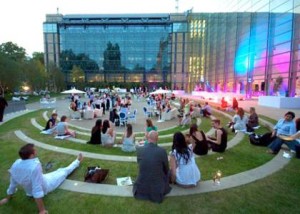 The Museum also has facilities for small daytime conferences.  The 209 seat Auditorium comes equipped with state of the art, high specification AV equipment, including a lectern with in-built microphones, a 4,000-lumen projector (plugged in from your PC), HD video playback, a variety of wireless microphones, and an induction loop.  You can also record your presentation on to MP3, and there's a Blu-ray and DVD player for film screenings.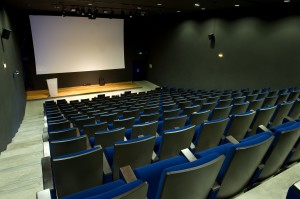 A fantastic venue choice for science lovers, those looking for a truly unusual wedding reception venue, or for corporate events centering around anything green-fingered such as conservation or environmental protection, The Natural History Museum can also provide you with a range of menus and drinks packages.  Both diverse and delicious, anything from kosher to kebabs, buffets to banquets can be arranged here, and the venue boasts pop-up bars to you can configure your events space in the layout you prefer.
Call Best Venues London now to get incredible package deals on venue hire at this world-famous London landmark, and to learn more about other museum venues in the city that can reflect the purpose of your event and your brand with extra impact