The Christmas season is a time for merriment, joy and gathering. One of the highlights of the festive period is undoubtedly the office Christmas party. Christmas parties offer a touch of magic with a captivating atmosphere and are an event people look forward to throughout the festive season, a time to let their hair down and enjoy time with colleagues before the start of the holidays. A good Christmas party will have guests reminiscing for years to come!
At The Inner Temple, Christmas Parties are one of our favourite times of year as they work perfectly within the traditional and historic setting of the venue.
Planning a memorable Christmas Party may seem daunting but with careful organisation, you can create an unforgettable experience. In this blog post, we will explore tips and ideas for planning the ultimate office Christmas party at Inner Temple:
Find the perfect venue:
Great venues get booked up well in advance, so although the summer season may have you thinking Christmas is too far away to think about, bear in mind that a lot of companies find and book their Christmas party venue in summer, or sometimes even earlier so make sure you look around and at least provisionally hold some dates at your preferred venues. To find the right venue, there are a host of great event agencies who can help you or go on event websites to look at different venue options. We recommend filtering down the venues by location and the capacity you need, and then seeing which of those venues suits you in terms of atmosphere. Enquire for quotes and with the ones where the options and costings suit what your company is looking for, you can book in site visits. There is nothing like seeing the venue in person for a real sense of the space.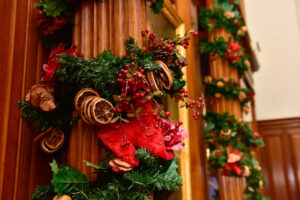 Set the theme:
A well-defined theme sets the stage for a great Christmas party. Consider whether you want a cosy gathering, for instance an Alpine ski lodge is a great theme with soft lighting, bar stools, faux fur blankets on the chairs and pinecones and ferns adorning the tables. Or if you want a traditional party, choose a venue with classic features and traditional theming such as Christmas trees, beautiful ornaments, twinkling lights, garlands, and poinsettia. Once you have decided on a theme, transform your space into a festive wonderland. Work with your venue to see what theming they provide, and then add to that. The right decorations will instantly immerse your guests, setting the tone for an extraordinary celebration. The Inner Temple is a stunning venue if you are going with a traditional theme. Our decorations last year included a Christmas tree in the Hall and in the 4th floor reception space, garlands adorning the fireplace in the Luncheon Room and a garland around the entrance to the Parliament Chamber. If you want to add to this and create more dramatic décor, why not arrange for a florist to create table centres including red roses, pinecones, cinnamon sticks and holly, along with any flowers in red and orange tones. Adding tree branches decorated with baubles can also look amazing and create a showstopping centrepiece. All our rooms feature dimmable lights to create a cosy ambience and candelabras are included in the dining packages on our first floor. However, the lighting can be enhanced further with extras including glass-mirrored tea light holders and candles, storm lanterns, and electric church candles which look great extended across the Gallery overlooking the Hall. A range of other optional event enhancements and theming suppliers can make the event extra special.
For a fabulous central focus point to your event, which guests will be drawn to, you could bring in an ice bar with a cocktail mixologist to create festive favourite tipples which will give 'The Snow Queen' vibes.
Plan engaging activities and entertainment:
To ensure your Christmas party is entertaining and engaging, incorporate activities throughout the evening. For a small party consider hosting a secret Santa gift exchange so everyone ends the evening with a present to take away. Or organise fun games such as a Christmas themed scavenger hunt: split everyone into teams and leave clues around the venue that ultimately ends in finding a Christmas themed trophy or prize. For a more interactive experience, set up a DIY craft station where guests can create personalised wreaths or Christmas decorations. Or for an informal event, fun fair stalls are also a great idea, how about a Christmas spin on traditional fun fair stalls such as 'hook a bauble' instead of 'hook a duck' or 'wreath toss' with wreaths instead of rings for a festive take on quoits. The Inner Temple also has a range of entertainment suppliers who can supply different performance artists to interact with guests. Some of our favourites include; circus acts such as contortionists, acrobats or jugglers, caricaturists, and stilt walkers dressed up in a variety of winter themed outfits.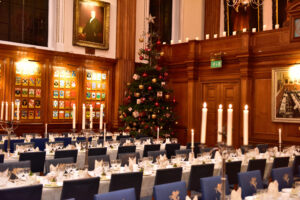 Curate a festive menu:
Delight your guests with a mouthwatering menu that captures the essence of the holiday season. Incorporate traditional dishes like roasted turkey or glazed ham, accompanied by flavourful sides such as pigs in blankets, roast potatoes, roasted vegetables, and accompanying condiments such as cranberry sauce. Don't forget to inform your venue of any dietary requirements and have vegetarian and vegan options available. Enhance the culinary experience by serving drinks like mulled wine, spiced cider, or a festive cocktail. You could also see if the venue can offer dessert stations for the evening rather than a plated dessert, to allow more time for dancing, along with a wider range of sweet choices for guests to choose from. A well-thought-out menu will not only satisfy your guests' taste buds but also adds to the overall festive ambience. The Inner Temple offers packages for receptions, lunches and dinners. The reception packages feature festive canapes, prosecco and unlimited house wine, beer and soft drinks. The lunch and dinner packages feature prosecco on arrival, half a bottle of house wine and water with the dinner, a 3-course festive menu with coffee and Pegasus chocolates. This year The Inner Temple's sample options for a plated dinner include Cured Scottish Smoked Salmon, Tofu Tempura, Roast Turkey Breast, Spinach & Ricotta Gnocchi and Hake Kiev with Lemon and Chervil. Dessert choices include a port and brandy aged Christmas pudding, cinnamon and orange crème brûlée and individual cheese plates with plum damson, pear and stem ginger chutney, dried figs and sourdough crackers.
Create a memorable playlist:
Music is the heart and soul of any celebration, and Christmas parties are no exception. Craft a playlist that blends beloved holiday classics with contemporary favourites. For a sedate Prosecco reception, you could hire a harpist or pianist or for a later evening event with dancing after dinner consider a DJ or band. A roaming jazz trio is also a fun option for a more relaxed drinks reception. The Inner Temple has a range of suppliers for this. Engage your guests by allowing them to request songs or even organise a holiday-themed karaoke session. The right music creates a festive atmosphere and ensures that everyone feels the spirit of the season.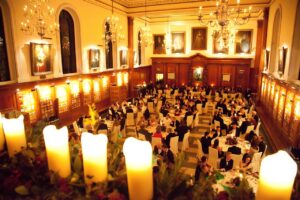 Planning the ultimate office Christmas party requires attention to detail, creativity, and a dash of festive magic. Infusing every aspect of the party with fun, entertainment, lots of food and drink, and music is a winning combination.
The Inner Temple is the perfect setting to host a Christmas Party in. The venue features traditional rooms on its first floor which transition into a more contemporary feel as you move to the upper levels. The rooms can be hired separately or combined, giving great flexibility whether you are holding a smaller festive drinks reception or a large Christmas dinner with dancing afterwards. You can choose from the Parliament Chamber which features fine oak paneling, a Grinling Gibbons carving above the fireplace and rich embroidered curtains. This is an ideal room for hosting a drinks reception. Alternatively, the Parliament Chamber can be used for a seated dinner in conjunction with the contrasting bright and airy Luncheon Room for the reception for numbers of up to 90.
The grandest of the rooms is our Hall which is a room steeped in history. Upon entry, guests are immediately struck by its majestic high ceilings, oak-paneled walls adorned with historical shields and paintings, and sparkling chandeliers. It provides a breathtaking setting that is perfect for dinners and large receptions and dancing the night away. With its timeless allure and remarkable features, The Hall guarantees to leave a lasting impression on all those who enter. The Hall is available for hire on weekday evenings and anytime on weekends.
The last of our first-floor rooms is our cosy Drawing Room, with plush furnishings ideal for hosting either a sophisticated festive reception or an intimate dinner of up to 50. This room is filled with natural daylight during the day, making it a delightful choice for a Christmas Lunch. Or in the evening, the room exudes a warm and welcoming atmosphere. The Drawing Room is available for hire midweek in the evenings or anytime on weekends.
Or for a more contemporary feel the newly renovated fourth floor is perfect for smaller Christmas lunches, dinners or receptions accommodating numbers of up to 30. Artworks that represent the Inn and its history adorn the walls and the spaces are flooded with natural daylight during the day.
At The Inner Temple, we still have some remaining dates left for Christmas so enquire today for availability.
Cheers to a holiday season filled with unforgettable celebrations!