Venue Info
Iconic Theatre Venue For Meetings & Conferences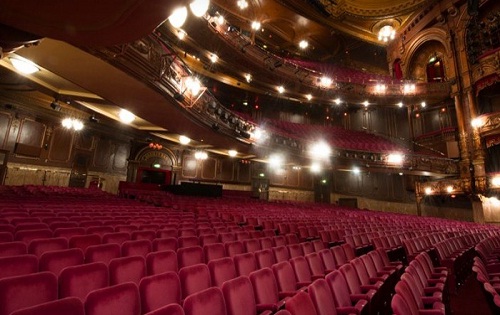 The iconic London Palladium is the perfect venue to host the grandest business conferences, presentations, meetings and receptions.
This prestigious theatre's auditorium seats over 2,200 people, while two bars offer spaces to fit smaller business functions. The London Palladium is situated in the heart of London's West End, a short walk from Oxford Circus.
The London Palladium is one of the most famous stages in the world. When you choose to host your conference, presentation or meeting here, you tap into that special magic that gives your message a touch of glamour.
The lavish, 2,200-plus-seat auditorium is a perfect venue to amaze and delight your guests, customers or employees.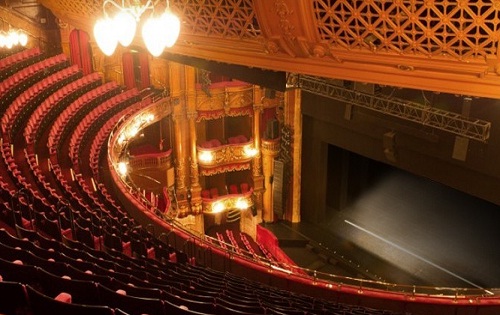 The theatre offers two additional, beautifully decorated, private bars, the Val Parnell Bar and the Cinderella Bar.
These flexible, fully licensed spaces can be configured for a range of functions such as receptions or presentations for up to 150 guests.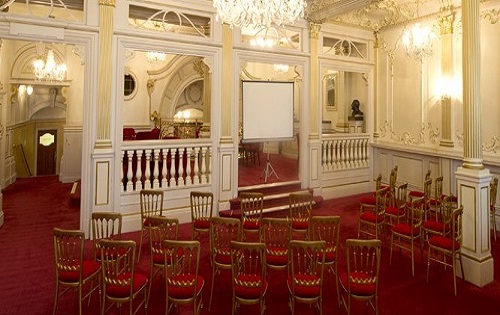 Auditorium
The broad sweep of the two balconies at the London Palladium is enabled by Frank Matcham's use of semi-circular cantilevers as support.
As there are no pillars every seat has an uninterrupted view of the stage and the balconies curve around towards the proscenium providing an intimacy between performer and audience unmatched by any other venue.
The rich plaster decoration and rose marble finishes are opulent but at the same time create a feeling of comfort and security.
With 2,296 seats across three levels – Stalls, Dress Circle and Upper Circle – the auditorium is one of London's largest but retains a cosy and friendly atmosphere.
Capacity – 2,296
Cinderella Bar
Beautifully decorated and situated in the heart of the London Palladium, the Cinderella Bar captures the essence of the Theatre and is extremely versatile.
Perfect for meetings, presentations, training days and even as a post-show venue for the evening, the Cinderella Bar will not disappoint. Fully licensed, this space oozes the 'variety' you'd expect from the London Palladium.
Capacity
Theatre Style Seating: 50
Standing Reception: 150
Rehearsal Room
The Rehearsal Studio at the London Palladium has been recently renovated with everything you could need to hold auditions, dance classes, rehearsals or even a photo shoot, including amenities such as tea, coffee and soft drink facilities.
Capacity
Standing Reception: 30
The Val Parnell Bar
After an extensive £5 Million renovation project, The Val Parnell Bar at the London Palladium captures the heart and soul of the one hundred years of Variety Performances, which the Theatre is so renowned for.
Extremely versatile, this space is perfect for anything from meetings, presentations and training days to auditions and even as a post-show venue for the evening.
Fully licensed and with the option of a cabaret stage, this space oozes the 'variety' you'd expect from the London Palladium.
Capacity
Theatre Style Seating: 100
Standing Reception: 225
Seated Dinner: 30
To enquire or book this venue, kindly contact us.