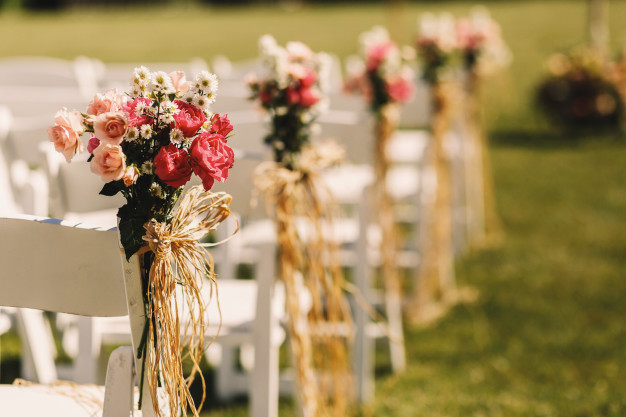 Your wedding day is the most important day of your life, so it is vital that everything is simply perfect.  We have put together some simple tips to help you plan your special day.
Budget
This should be the first thing that is discussed and set.  You should set a maximum limit on the amount you want to spend and stick to it.  Costs can easily run away and you could be left with a massive, unexpected bill.
Date
Start with the month you would like to get married and then you can think of a date.  Remember, some venues offer discounted rates for mid-week weddings, so this is something to bear in mind.  Allow yourself plenty of time for the planning as you will want to have all of your special friends and family there.
Wedding party
This is best chosen early on – you will probably want to pick a maid of honour, bridesmaids, flower girls, best man as well as other special attendants.
Location
It is a good idea to think about where you would like your wedding to take place.  Will it be a church wedding followed by a reception at a venue nearby or will you opt for a civil ceremony and reception all in one place?  Get as many brochures as you can from venues in your chosen area and also don't forget that there are a lot of companies who specialise in finding wedding venues for couples, free of charge.
Officiator
You will need to check with the vicar or registrar to ensure that they are available on the day you have chosen.  Registrars can now be booked 1 year in advance.
Theme/colours
You will possibly want choose a theme or set of colours for your wedding as this will set the mood of the wedding.
Wardrobe
The dress is of course the most important item, but you also need to co-ordinate the groom and your attendants outfits.  Don't forget shoes and jewellery too.
Invitations
By now you may have an idea of who you want to invite, so you can order your invitations.  You will need to have a rough estimation of how many guests you are going to invite.  Give some thought to the invitations – are some of your guests travelling some distance to get to your wedding?  Should you include maps and directions?  Shop around for invitations and try and get the best price.
Rings
Most rings will have to be re-sized, so don't forget to budget for these and spend a morning ring shopping.
Wedding catering
Most venues offer tastings some time before your wedding so that you can choose your menu.  Don't forget about the cake – think about the style of cake you would like and again speak to wedding cake specialists and taste.
Music
This is another cost consideration – you may want some recorded music playing throughout the ceremony and opt for a DJ or live band for the evening
Vows
Sometimes you can be so busy in planning the day that your vows get forgotten.  Talk to your partner about your vows, what they mean to you and perhaps write your own.  It is the most important decision you have made that will affect the rest of your life
If you follow these simple steps you will be sure to have a wonderful, stress-free day.  Enjoy!