Capacity
Assembly Hall With Stage Seat - 468 / Reception - 500
Assembly Hall Without Stage Seat - 468 / Reception - 550
Bishops Partridge Hall Seat - 130 / Reception - 160
Convocation Hall Seat - 56 / Reception - 100
Harvey Goodwin Suite Seat - 180 / Reception - 250
Hoare Memorial Hall Seat - 230 / Reception - 250
Various Smalls Rooms Available Seat - 10-30 / Reception - 10-30
Venue Info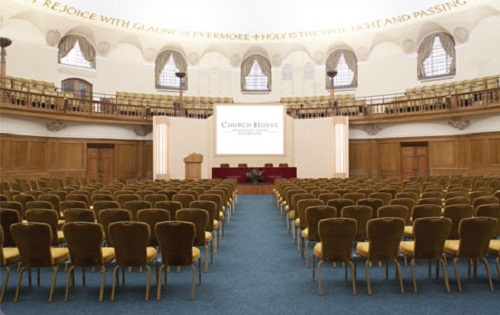 Looking for a conference venue in Central London?
If you are then Church House Conference Centre is the place for you.
Situated in the heart of Westminster, with exquisite views of Westminster Abbey, the Grade II listed venue offers an elegant and tranquil setting for private and corporate events.
All of their function rooms offer versatile space for a range of events for up to 664 guests.
Whether you are looking to organise a glittering Christmas party or an international conference with web streaming, Church House Conference Centre can tailor their services to match your requirements.
To enquire or book this venue, kindly contact us.