Venue Info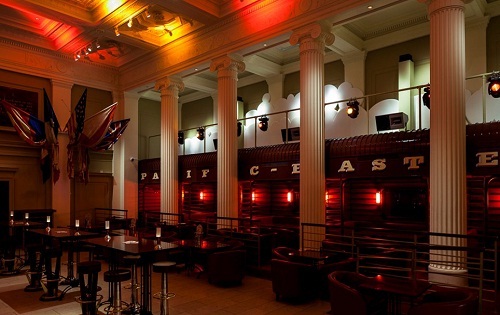 Steam and Rye is an American dream on British soil. The venue is a spectacular 550 capacity space harking back to a bygone era, encapsulating America's Gilded Age, a time of glamour, decadence and idealism in the old bank of New York building in Bank, the heart of the City of London.
The Venue has a number of elements. The Main Hall and Station Gardens are modelled on New York's Grand Central Station and offer an over-whelming assault on the senses.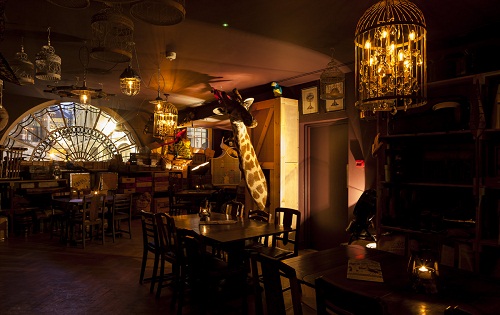 The room features a beautiful sculpted bar, a stage, Grand Central's clock, and its very own Eastern Pacific Steam Train Dining Carriages. This area accommodates 350 guests.
Adjacent to Grand Central Station is Beamish's Study. This room is a peaceful, private dining room and blank event space for up to 40 people.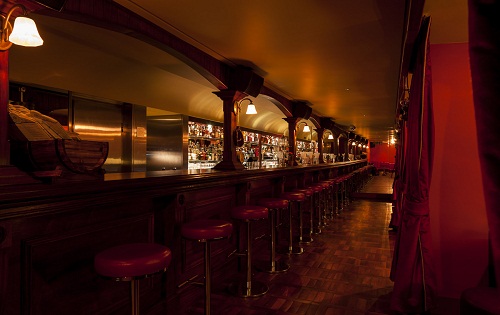 Explorers will find a winding stairwell leading to the mezzanine level and the Cargo Hold; another event space for up to 75 guests (40 seated) housing an impossibly crammed collection of ephemera, taxidermy, flotsam and jetsam with a glass fronted wall offering a bird's eye view over Grand Central Station. Dimly lit, it takes time to explore the treasures accumulated over a lifetime of travel to extraordinary destinations.
Finally the basement 1st Class Cocktail Carriage is a luxurious retreat whilst crossing continents. Rich sumptuous velvet and intimate leather-lined booths (seating 12) create an opulent den to savour extraordinary and exotic cocktails from the richly-laden bar. Ideal for private parties and outlaws hideouts for up to 70 guests.
Features
Audio-visual equipment
Dancefloor
Disabled access
Late license
Permission to theme/decorate the venue
Spacious & light

To enquire or book this venue, kindly contact us.