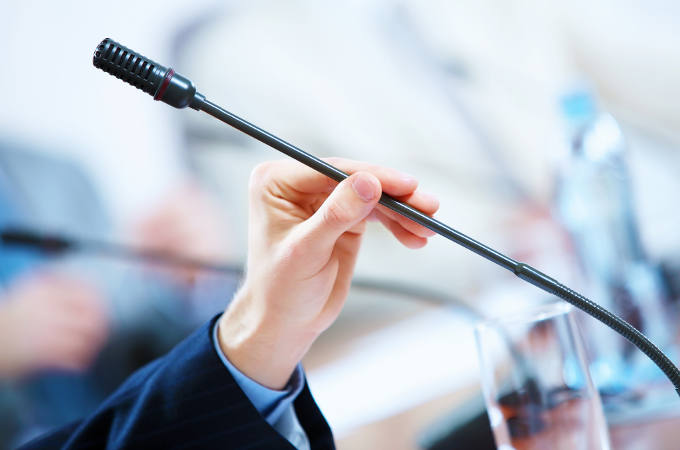 Event planning is an adrenaline driven business. Finding the perfect venue, coordinating the budget, the catering and the guest list, hiring expert speakers… everything has to come together in perfect harmony on the day.
Here at Best Venues London, we can put a professional team at your disposal to help with venue finding – but that's not all. Ask us about any aspect of organising your event and we'll be only too pleased to help with professional advice and insider tips that make your life easier and your event a huge success.
Take guest speakers, for example. Don't pay a hefty commission to a bureau to find you a keynote speaker – there are many cheaper and arguably better ways to accomplish the same thing. Here are our top resources to help you find a great speaker to anchor your next event.
Ask for word of mouth recommendations
Always start with who you know – word of mouth is a powerful advertising medium that can yield fantastic results, and often at no cost. If you, your friends or colleagues have recently attended a conference, you or they may have come across a speaker who made a great impression. Get contact details and get in touch with the speaker straightaway.
Use your LinkedIn network contacts
LinkedIn is a social media platform designed for professional networking. Review your contacts' profiles, participate in relevant groups and forums, and ask around your trusted network to identify seasoned professional speakers and other interesting industry contacts that might be willing to consider a speaking engagement. If you use Facebook for business, this is also worth exploring.
Connect with local organisations
Reach out to your local Chamber of Commerce and niche professional organisations relevant to your industry or event theme. These are good resources to find qualified professionals who are intent on sharing their industry knowledge within the wider business community, while looking for opportunities to increase their brand's or business' visibility locally.
Consult professional speaking associations
Public speaking is a craft that takes many years to perfect. Check local Speakers' Clubs or the Professional Speaking Association (PSA) for professional public speakers or those in training, and look up Toastmasters, the Global Speakers Federation (GSF) or the US National Speakers Association (NSA), many of whom will have published directories of their members.
Issue a call for proposals
If your event is technical or academic in nature, and you have plenty of time to prepare its content, put out a call for proposals or abstracts. This gives potential speakers with the right knowledge and experience the chance to directly submit their ideas for talks, providing you with a pool of qualified speakers from which to choose the most appropriate conference presenters.
Use online search engines
What's the first thing you do when you want to find information – you google it. Every web savvy professional and every business worth its salt has a website with useful information that can be searched online. Look for a speaker who covers the subject you're after – e.g. 'social media speaker', 'change management speaker' or 'digital marketing keynote speaker' – and carefully review each site. Do they have the right experience? Are there any video clips to watch to give you a better idea of their delivery and style? If you like what you see, make contact.
Once you have decided on your guest speaker, make sure you book well in advance. The most popular speakers may need as much as a year's notice, but the norm is 2-3 months. The more notice you can give, the better the quality of the speaker you can get and the longer you'll have to prepare and promote the event, which should result in a very successful day for all concerned.
Finally, as the big day approaches, think carefully about planning your event to get the best out of the speech(es). Our top 3 tips are:
• Schedule your keynotes away from mealtimes and easy distractions
• Harness maximum attention by building in regular breaks
• Theatre style room layouts are best for encouraging focused attention and interaction