Capacity
Atrium Seat: 90 / Reception: 100
Bench Seat: 30 / Reception: 50
Exhibition Room Seat: 130 / Reception: 130
Conference Room Seat: 55
Boardroom Seat: 10-25
Creative Base Seat: 10-15 / Reception: 28
Venue Info
Clerkenwell Meeting Venue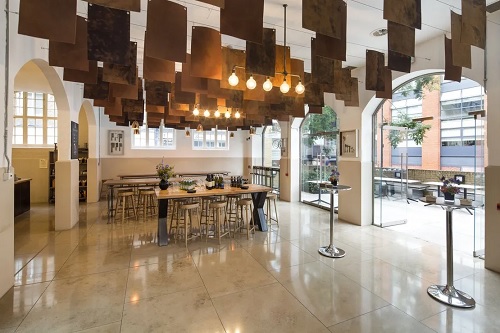 Clerkenwell Meeting Venue – The Goldsmith's Centre is a modern & stylish venue for hire in the heart of Clerkenwell.
Designed with flexibility, the space is perfect for hosting large or smaller intimate crowds as needed. Its close proximity to Farringdon Tube Station makes it ideal for those depending on public transport to move to & fro. The space is able to cater to crowds of 24 to 126. Their wide range of rooms offers you a creative space to think from with beautiful views of the London sky.
Apart from meetings, The Goldsmith's Centre is also available for weddings, private events, exhibitions, conferences, virtual meetings and more.