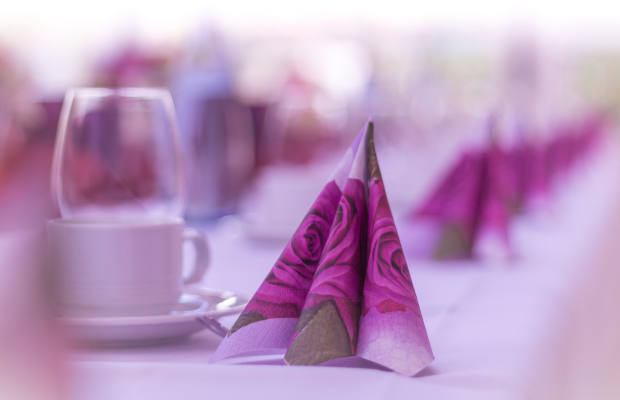 First impressions count, especially when you're trying to enthuse your delegates or guests. Event design is one of the most creative parts of being an event planner, so why not channel your inner artist to make an impact with the visual staging of your event space?
Here at Best Venues London, we know a few things about successful conference venues and cool party pads. We've put together 7 simple tips that really shouldn't break the bank.
1 – Change up the room layout
It's a good idea to be open minded when you first step inside the venue and try to see the potential rather than what's actually there. Maybe conventional layouts just won't work for what you have in mind. With a bit of creativity you can soon visualise a better layout for your event. Cabaret style seating may be more conducive to interaction than classroom style seating. How about using a riser or stage to focus attention in the room or provide high tops and casual seating for easy networking?
2 – Use customised seating
Add a touch of personality to otherwise boring conference chairs – use interesting chair colours and designs, cushions, balloons, anything! Family style or community style seating is a rising trend for informal events – and who says it has to be chairs, anyway? Bean bags or cushions on the floor may be suitable for informal, indoor interactive events, while outdoor events are bound to be more memorable with hay bales or tree trunks for seating.
3 – The power of colour and light
Achieve the right ambience with something as subtle as candle light, dramatic colour washed walls, focused stage lighting and accent colours throughout the room. Daytime events will benefit from plenty of natural daylight, while the colour scheme in the room should be fresh and uplifting. For elegant evening do's, choose a bolder, more exciting colour palette. Why not incorporate your brand colours into the tableware, floral displays, chair decorations or lighting design?
4 – Feature local artwork
Boldly presented art displays add visual interest and sophistication to any event. Perhaps you've decided to hold your event in an art gallery or museum, precisely for that reason. Otherwise, why not reach out to local up-and-coming painters, sculptors or photographers and ask for cooperation at the venue? Whether you go for traditional techniques and media or avantgarde installations, and especially if the works are available to buy, it will give your event that certain je-ne-sais-quoi.
5 – Bring in Mother Nature
Nature is a powerful driver and can easily help you create the right atmosphere for your sustainable business event or party venue. Don't skimp on floral displays and plants – even an indoor tree if the venue is big enough. There's no need to go for expensive exotica either. Natural wildflowers can be just as effective as elegant orchids. Evoke a natural vibe with materials, textures and neutral colours. Glass, wood, stone, wicker, bamboo, hemp, recycled cardboard and paper, even rocks and crystals.
6 – Get creative with crafting
By using fabrics and decorative paper and card you can give your event an individual, handmade feel. From programmes to room decorations, employ intricate paper cutting techniques, stencilling or origami, and use basic crafting materials to create unique décor articles and functional items that are fun and funky. Why not use swathes of brightly coloured crepe paper or silky fabric to drape across the ceiling to make the space feel more intimate?
7 – Utilise team resources
Finally, don't underestimate the creative energy and good will residing within your team. Given half a chance, many people would love the opportunity to help decorate an event venue, so make sure you use all the team resources you have available. Rather than commissioning professional designers and creatives, why not share the freedom and responsibility to make an artistic contribution with willing team members?